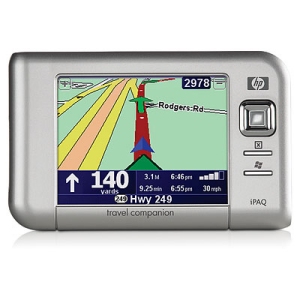 The HP iPAQ rx5900 Travel Companion will help you navigate, stay connected, stay informed, and always be entertained wherever your travels may take you. Thin and light, this iPAQ is truly small enough to take with you wherever you travel.
The Travel Companion is a complete GPS navigation system that includes a car kit and TomTom Navigator 6 pre-installed. The navigation software has complete maps of United States and Canada. More than just a GPS, the device will also give you the current time and weather for cities worldwide, convert currency, size and measurement, customize your packing list, and more.
The rx5900 is a Windows Mobile 5.0 handheld and includes pocket versions of Word, Excel, and PowerPoint. You can also synchronize your Outlook calendar, contacts, and email.
Connectivity options include integrated 802.11b/g wireless LAN and Bluetooth wireless technologies. You can access the Internet, email and other data at the airport, hotel, or coffee shop. In addition, you can stay entertained during layovers and listen to music, view photos and videos, surf the web, or play games.
HP iPAQ rx5900 Travel Companion [HP]