The HotSeat Video Gaming Chassis is about as close as many of us will ever come to a real cockpit. Fully capable for pilot training and upgrade training, the HotSeat Flight Sim is a complete gaming chair that works with many different gaming platforms. You just supply the flight controls, monitor, and PC, or allow HotSeat Chassis Inc. supply it for you.
The HotSeat chassis is made from welded steel tubing and high-grade aluminums that will stand up to the most extreme gaming conditions. The adjustable sliding seat accommodates gamers from 3′ tall up to 6'6″ and folds into a clamshell for easy storage and transport. The chassis includes a durable, welded steel pedal mounting system that will firmly hold your pedals in a lifelike driving position.
Multimedia features on the HotSeat include a 6-speaker Dolby Digital 5.1 Surround Sound system with a powered subwoofer and 3 audio inputs for support of up to 3 devices including DVD players, VCR's and MP3 players. The custom LCD stand is capable of supporting LCD monitors up to 24″ with a table that adjusts up and down for proper viewing angles.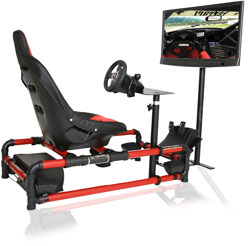 The HotSeat comes in various configurations to support your gaming tastes and is compatible with all major console gaming systems, PC's and DVD players. The HotSeat comes in Red, Blue, Yellow and Black with custom colors available upon request.
gaming, gaming chair, video games