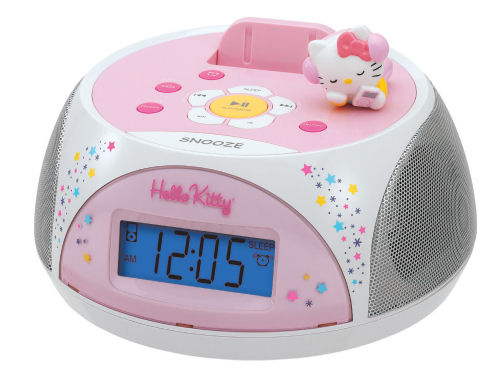 There are continuously fewer popular gadgets that don't have some type of accessory related to Hello Kitty, and this Hello Kitty Clock Radio / Docking Station for the Apple iPod comes as no surprise.
This clock radio has some of the normal functionality you would expect, with an alarm that will play the radio or your iPod, and a 5 minute snooze button. Also, of course it bears the familiar pink colors and design of Hello Kitty products.
There are a couple things that could make this particular clock radio a little more worth looking into for some, though. It does dock, charge and play your iPod Mini or nano through the stereo speakers, but it also has a video out jack. This allows iPods that have video or pictures to display them on a TV set, which was something a little unexpected for us, and makes the Hello Kitty design almost tolerable.
Source [Spectra]
alarm clock, clock radio, Clocks, Hello Kitty