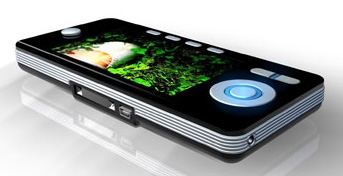 This slim gadget called Guide Dog from Power Digital Card is a GPS navigation device that packs a lot of functionality into a slim and sexy design.
The GPS gadget is expected to be on display at the CES 2007 in Las Vegas and boasts enough functionality to the point where we are questioning it's validity. It is stated that the Guide Dog has 4 inch TFT LCD color touch screen, built in GPS antenna, and 3D gaming. On top of that, it has some internet access to allow web browsing, email and components of MS Office along with functioning as an IP Phone and of course containing GPS navigation software.
External accessories would allow it to receive DVB-T (a compressed video and audio stream used in Europe), Bluetooth, GPRS, UART, and handsfree functionality. The exact dimensions are not listed for the Guide Dog, but you can estimate if the screen is 4 inches, this device is pretty slim. We'll have to watch for this next year and see how close to reality this description ends up.
Source [Navigadget]