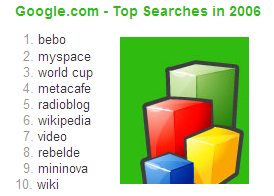 Google has once again released its Google Zeitgeist top 10 list, showing the top 10 searches for the year 2006 on Google and Google News world wide.
Topping the list for Google searches this year is 'bebo', a "new generation" social networking site according to the bebo site, followed directly by myspace, another obviously popular networking site. 'World cup' was in the top 10, along with a couple entries with 'wiki' in it, showing that searches have really caught on to the idea of Wikipedia type resources, which also should be no surprise based on the amount of wiki information available.
The Zeitgeist top 10 list has the top 10 items searched on Google News as well. Topping the searches on Google News was 'Paris Hilton' followed by 'Orlando Bloom'.
Google Zeitgeist bases there data not only on the most number of searches, but also on the increase in number of searches for an item over time. This allows them to reflect the changing interests and concerns of the people searching on Google.
Zeitgeist also lists some other interesting top 10 lists, including the top searches that include the phrase 'who is' (topped by 'borat'), 'what is', 'how to' and 'define'. Interestingly, the top search with 'define' was 'define promiscuous', and 'refinance' was at the top of the 'how to' list.
There is also information showing milestones with weddings, divorces and deaths, as well as top entertainment and sports entries. Check out the site below and see how inline your searches and interests this past year were with the masses.
Top 10 [Google]