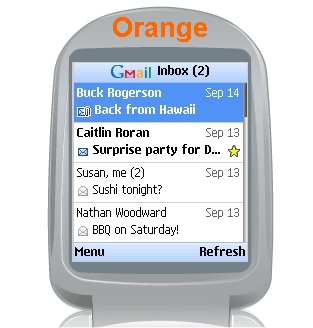 According to the Observer, Google and Orange are collaborating on making a Google Phone with built in Google applications for surfing the web, and getting email. This would be another big step forward for both of these two very powerful companies in the technology world, and could be a large benefit to consumers in mobile internet access and potentially costs as well.
Google has been working on different technologies to make information more accessible from mobile devices, such getting email on your handset, and having another medium to be able to provide search services along with advertising may be right inline with Google's vision.
The Observer stated: "A source close to the talks told The Observer: 'Google are software experts and are doing some amazing work compressing data so that the mobile user gets a much better experience. They don't know so much about mobiles, but they are eager to learn from Orange's years of experience.'"
Google and Orange do not sound like they are planning on making a revolutionary mobile device, and it would possibly be manufactured by HTC. But, the service they offer and how they go about providing it could be a different story.
One speculated service offering would be that location based searches could be taken to a new level by knowing where the current location of the handset is and returning search results in that area. This would allow searches for local restaurants, motels or gas stations more accurate and convenient by being location targeted. The overall plan would be to improve the user experience of browsing the web from a mobile handset.
While Google has declined to comment on these 'rumors' and 'market speculation' according to a Google spokesman, an Observer source says that this collaboration between Google and Orange would probably not come to fruition until later than 2008.
Source [Observer]