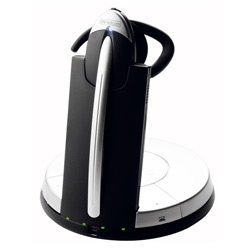 The GN 9350 is a dual-function wireless headset from GN Netcom that works for both traditional and PC-based phone calls. Lightweight and ergonomic, the 9350 provides hands-free mobility with a wireless range of up to 300 feet.
The headset uses Digital Signal Processing (DSP) and IntelliTone technology to remove impurities from the incoming signal for better sound quality and a consistent volume level which may protect your hearing. The noise-canceling microphone also helps reduce annoying background noise
The 9350 is the first wireless headset for IP telephony that features wideband audio. The headset operates at a WiFi-friendly 1.9 GHz frequency with DECT 6.0 wireless technology.
The LCD display lets you set-up of personal sound preferences and call parameters such as volume and audio output. It also expands your communications potential with and conference call capability.
The GN 9350 is great for those walk-and-talk types. In addition, the headset is a safe investment that allows you the freedom to expand or change your telephone system without having to purchase a new headset.
GN 9350 Wireless Headset [GN Netcom]