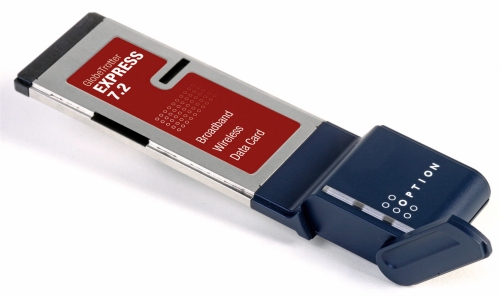 The GlobeTrotter EXPRESS 7.2 is a new wireless data card from Belgian wireless technology company Option. The GlobeTrotter is a multi-band, multi-technology receiver and the first slimline ExpressCard design (34 mm width) from Option. Scanning networks for HSDPA, UMTS, EDGE and GPRS, the GlobeTrotter EXPRESS 7.2 will keep you on the fastest possible connection in nearly every country worldwide.
The card features dual-antennae Advanced Receiver Technology to sustain faster and more stable connections in larger coverage areas. The card will work with HSDPA 3.6Mbps networks and can be boosted to 7.2 Mbps HSDPA networks with a firmware upgrade. Backward compatibility ensures HSDPA connections at lower rates of 3.6 Mbps and 1.8 Mbps and UMTS connections up to 384 Kbps.
Option is currently sampling the GlobeTrotter EXPRESS 7.2 with initial shipments to primary network operators scheduled for January 2007.
GlobeTrotter EXPRESS 7.2 [Option]