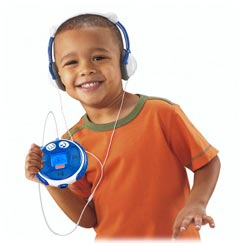 Little kids like to enjoy their music too, but most parents might be a little hesitant to let their 5 year old handle the expensive MP3 player they just bought. Probably due to this very reason, the Kid-Tough FP3 Player from Fisher Price has been a popular item this year for youngsters. It works very similarly to most MP3 players, but like the name says it's built "kid-tough" so it can stand the multiple drops and banging around that is bound to happen. It's also big enough that it won't easily be lost like a smaller MP3 player might, and has a kid-friendly grip and interface.
Fisher Price even offers a website where you can browse, preview and download FP3 songs and stories specifically for kids directly to the FP3 player through your Windows PC (no Mac's). Kid-Tough FP3 player can hold up to 2 hours of songs or stories with the internal memory alone and it also has an SD card slot to expand the memory and hold more songs if you would like. You can also use the same software to rip your kids CD's to play on the FP3 player so you aren't limited to what Fisher Price offers for media, although they do have a pretty nice selection available.
When looking for songs on the Fisher Price Online Store, you can search by title, or browse by age, category and artist. There is also a list of top songs and stories along with featured albums.
Operating the Kid-Tough FP3 player is, as you might imagine, pretty simple for kids since it has big buttons and an LCD screen with picture icons to represent the different songs and stories. This makes choosing songs a little easier for those early readers. Fisher-Price also thought to include a neck strap (break-away) and headphones that are not painful or awkward for little ears.
Product Page [Fisher-Price]