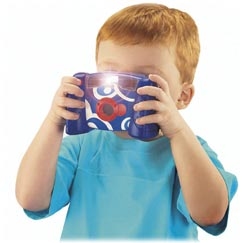 My first digital camera as an adult was not as sophisticated as this Kid-Tough Digital Camera from Fisher-Price for ages 3 & up. I also think my first digital camera was even slightly bigger!
This is a real camera that takes real digital photos that can be transferred on to your PC, and has a 1.3″ color LCD to view the pictures immediately after you take them. When taking the pictures, the digital camera has a viewer for both eyes so the little kids don't have to know how to wink to be able to focus in on there target. It also has big hand-holds on either side and big buttons to make it simple to use.
The designers have also taken into account that kids are going to drop this camera, a lot, so it is shockproof. It has a built in auto flash and can hold up to 60 photos that are taken at a 640×480 resolution with the internal 8MB of memory. An SD card can be added to hold more.
This looks like an excellent gift for kids since it is built tough and you will not be going through rolls of film as you would with non-digital cameras, but the only trick now is finding one. These Kid-Tough digital camera's are listed for $70 but have been sold out at most places for weeks.
Catalog Page [Fisher-Price]