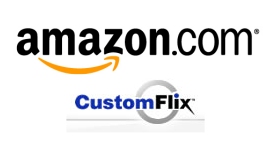 CustomFlix has announced that it is supporting Amazon Unbox, Amazon.com's video download service, by adding video downloads to its current DVD and CD on Demand services. CustomFlix, a subsidiary of Amazon.com, is a manufacture-on-demand service for independent filmmakers and other DVD content owners.
Independent filmmakers and other digital media owners will be able to distribute their titles in more formats and expose them to a broader audience consisting of tens of millions of Amazon.com customers. CustomFlix members can add a digital download option to DVD titles available for sale on Amazon.com at no extra cost.
Amazon is a popular destination for movie enthusiasts and the CustomFlix catalog will certainly give Amazon customers a welcome variety of offerings. Unbox customers will start seeing the CustomFlix content early next year.