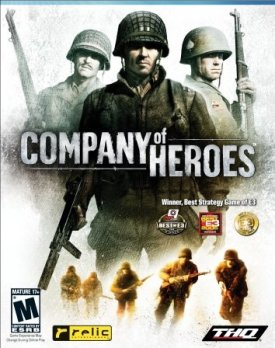 Relic, the company that produced the Warhammer 40,000 games has done it again. We have long been fans of the Warhammer games (actually one of us spent Thanksgiving day playing through the Dawn of War games again) and we've been anticipating Company of Heroes. We are glad to say that it does not disappoint.
Company of Heroes follows Able Company through the D-day invasion of Omaha beach up until the Battle of Normandy where the Allies defeat the Germans in France.
The game just does things right. Company of Heroes is a an RTS but like other Relic RTS games the sometimes tedious resource gathering and base building concepts are turned on their head. You have to capture and hold strategic positions in order to utilize the three resources; fuel, munitions and manpower. These resources actually make sense for fighting a modern war. Mining gold and timber wouldn't get you very far in World War II. The resource strategy is enough to make these game a standout but its just one of the innovations that make this game great.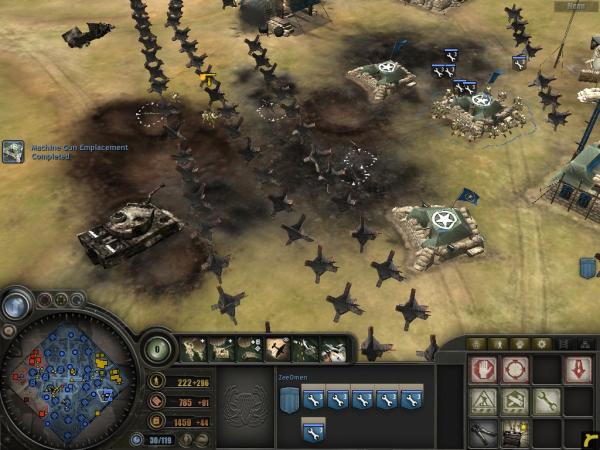 The game features a fully destructible environment. When a building in a village takes a mortar hit it will actually show damage. This means that over time the ravages of battle can lay waste to entire towns.
The focus is more on tactics on the battlefield than a strategy of building a base and defending it. Your upgrades go right into the hands of your soldiers. You also have the option of upgrading individual units. This is a feature we loved in Warhammer 40,000 games.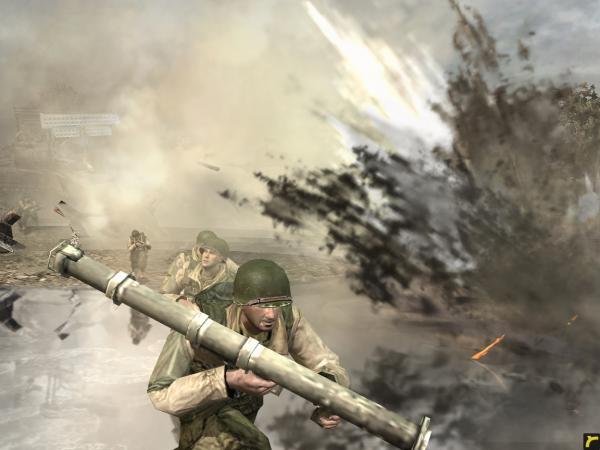 A standout features that makes Relic games unique is the individual unit animation. Funny as it sounds, you actually feel for the soldiers as you see their emotions during battle. The overall feeling is like playing a game very similar to the movie "Saving Private Ryan" or the series "Band of Brothers." There is up close personal carnage and destruction and you see its effects on your men.
In single player mode you can only play as the Allies (the Americans) and you always fight the Axis (the Germans). There are 15 single player missions taking you through the game from D-Day to the Battle of Normandy. In skirmish mode you can play as the Axis. This is typical of the Warhammer 40,000 series where you play through as only faction in the single player campaign.
We should point out a few issues. Additional factions would be nice. An expansion pack is the predictable answer to that sometime in the future. Also make sure that your machine is up to date with a decent video card. You really want to experience the graphics in this game as it really immerses you in the action.
Overall, the level of detail and just plain old fashioned fun game play make this a winner. We definitely recommend you pick this title up. This may just be one of the best RTS games ever.
Awards:
· Best PC game 2006, best sound, best PC strategy game, best PC multiplayer GameSpy.com
· Best PC game 2006, best strategy game GameSpot
· Best PC game 2006, best PC strategy game, best sound IGN
· E3 2005 Game Critics Awards: Best Strategy Game
· GameSpot 2005 Best PC Game of Show; Best Strategy Game of Show; Best Overall Game of Show[3]
· Runner Up, Best Strategy Game (PC), Runner Up, Technological Excellence (PC) – IGN
· Best of E3 – GameSpy.com
Requirements:
Operating System: Windows 98/ME/XP/2000
CPU: 1.5 GB Processor.
Hard Disk Space: 3GB HD space.
RAM: 512 MB RAM.
VIDEO: GeForce3 64 MB or Ati Radeon 8500 64MB or greater (True DX8 Graphics Card with 64MB RAM i.e. Video Cards with at least pixel-shader technology – GeForce4 MX isn't supported).
Sound: DirectX 8.1 Certified Sound Card.
Internet: Broadband or 56kb modem (multiplayer).
DX: DirectX: DX9.1 (included) but DX8.1 supported.
Website: http://www.companyofheroesgame.com