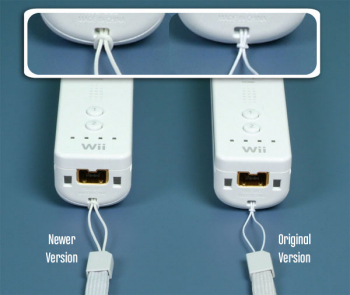 We all saw it coming, it was only a matter of time after all of the reports of damages caused by the Wii remotes. Green Welling LLP filed a class action lawsuit against Nintendo of America for the defective nature of the Wii wrist straps for the new game console controller.
The lawsuit states, "Owners of the Nintendo Wii reported that when they used the Nintendo remote and wrist strap, as instructed by the material that accompanied the Wii console, the wrist strap broke and caused the remote to leave the user's hand".
We here at Slippery Brick are no lawyers, but we all concur that there is a hole in their case with that statement since the remote had to most likely leave their hand first, and then it would break the strap, not vise versa as is afore mentioned.
That aside, the lawsuit wants Nintendo to discontinue their "…unfair or deceptive business practices…", and asks Nintendo to correct the defect and provide a refund or a replacement remote. Nintendo has already corrected the strap with a thicker one, offered a replacement strap to existing owners of the Wii game console, and has posted instructions on safe play.
Nintendo has issued a statement in response to this lawsuit saying "We believe the lawsuit to be completely without merit.".