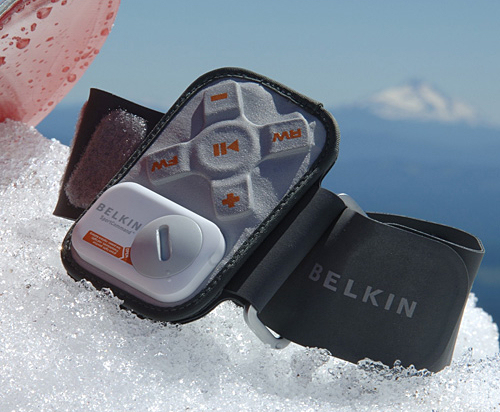 It's nice to be able to take your music with you when you are outdoors, but it is not nice when your iPod or any DAP gets wet or banged up from the elements and your "extreme sport" activities. Snow sports such as skiing and snowboarding are great examples of when you would like your tunes with you and not have to worry about ruining your iPod while you're checking your hang time.
The SportCommand from Belkin is a rugged remote control that can strap on to the outside of your jacket and control your iPod wirelessly while it's in an inside jacket pocket or in your backpack. The SportCommand is waterproof and has big buttons to run the basic functionality of your iPod so you don't have to take your gloves off and pull out the player to mess with it.
A small adapter attached to your iPod and the weather resistant controls on your sleeve allow you to play, pause, move forward and back in the tracks as well as adjust the volume, all from as far as 50 feet away from the player. 50 feet seems a little unnecessary, but add some portable speakers or a jack to your stereo and the Belkin SportCommand doubles as a regular wireless remote.
Product Page [Belkin]
Belkin, iPod, SportCommand, Waterproof, wireless