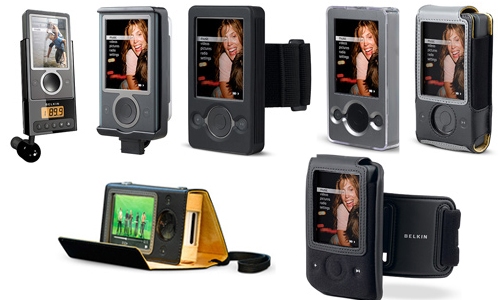 Belkin has announced the availability of some new accessories for the Zune digital media player. The accessories include an FM transmitter, backup battery pack, and a variety of different cases. The accessories take full advantage of the Zune player's landscape viewing mode to give you hands-free viewing of your Zune.
The TuneBase FM Transmitter for Zune ($79.99) features a built-in FM transmitter with three programmable memory presets. The transmitter allows you to wirelessly connect to your car stereo on FM channels 88.1 MHz – 107.9MHz. The transmitter includes an LCD display with backlight that displays FM frequency and memory selection. The TuneBase will also position the Zune in either portrait or landscape mode.
The TunePower for Zune ($59.99) is a battery pack that extends the playtime of your Zune by up to 6 hours. The fold-out kickstand gives you hands-free viewing and the protective-case design prevents damage to the connector from dirt, dust, or impact.
Other Zune accessories include:
Acrylic Case for Zune ($29.99). Protects your screen and control-pad with a clear cover.
Folio Kickstand Case for Zune ($29.99) – Adjustable kickstand case that gives you a better video-viewing angle and also protects your screen with a clear cover.
Holster Case for Zune ($29.99) – Removable, stain-resistant, microfiber holster case.
Neoprene Sports Armband Case for Zune ($29.99)
Sports Jacket Case with Armband for Zune ($19.99)
ClearScreen Overlay for Zune ($14.99)
The accessories are available in North America with launches in Asia, Europe, and Australia to follow.
Zune Accessories [Belkin]
Accessories, Belkin, Zune accessories, Zune battery pack, Zune Case