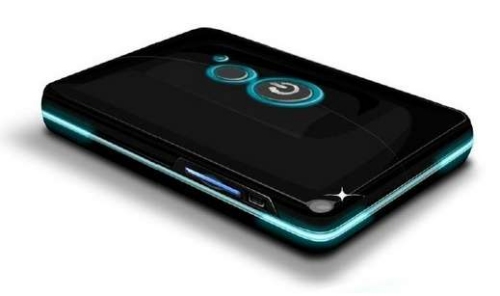 Many people may get frustrated by the lack of memory and the inflexibility to access digital content on their mobile phones. The BluOnyx Mobile Content Server from Agere Systems is a device that gives mobile users unprecedented connectivity options and access to their digital content using just their cell phones.
The BluOnyx Server enables mobile users to share and stream music, pictures, video and other files to or from electronic devices ranging from cell phones, PCs, digital cameras, game consoles and PCs using a wide range of connectivity options.
The server doesn't require a PC to operate; devices connect to the server wirelessly through Bluetooth and Wi-Fi interfaces or using USB cables or SD cards. The BluOnyx server can also be accessed directly or through a home or corporate network where it is seen as just another drive letter.
You to easily slip the BluOnyx server into your pocket as it is about the size of a credit card – measuring just 90 mm long by 60 mm wide and between 6 mm and 15 mm thick (depending on memory). The storage capacity ranges from 1 Gigabyte to 40 Gigabytes allowing you to store a good portion of your digital media collection. The device also features its own rechargeable battery that lasts up to 12 hours without recharging.
Your imagination is truly the limit with this unique device. The BluOnyx server will be at the Consumer Electronics Show January 8-11, 2007. The retail price is expected to range from $99 to $250 depending on memory capacity.
BluOnyx Mobile Content Server [Agere]