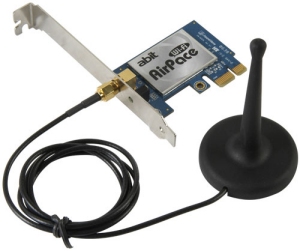 The AirPace Wi-Fi card from abit is a dual function, IEEE 802.11b/g (up to 54Mbps) compliant PCI-Express card.
In client mode, the AirPace Wi-Fi card allows your PC to join an existing wireless network or Access Point to connect to the internet. In addition, the card offers a software AP function that transforms your PC into an Access Point.
As an access point, you can allow other devices to access to your hard drive and internet connection as well as use its peripherals. Furthermore, as a dedicated AP you could stream music directly from your PC to your speaker system using abit's AirPace Music.
AirPace Wi-Fi Card [abit]