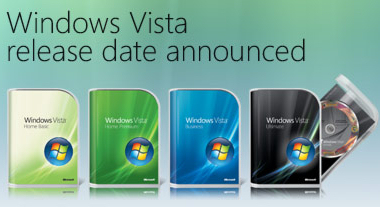 Microsoft has announced that Windows Vista will be available to the general consumer on January 30th, 2007. This release comes shortly after the release of Vista to business users at the end of November, 2006. After January 30th, the Windows Vista operating system will be availabe as both a stand alone purchase and pre-installed on new PC's.
Windows Vista is coming in 4 different editions:
Home Basic: This looks like a real scaled down version that is stated for use in basic home needs such as emailing and surfing the internet.
Home Premium: This version looks to still be a truely a home version of the application, but has some added features including the Media Center and integration with Xbox 360, as well as enhanced desktop navigation and Tablet support.
Business: The business edition is designed for small and mid-sized organizations, and does not have the Media Center and all the multi-media experiences. It does add in some more business-like features for networking, remote desktop, and data backup components.
Ultimate: The Windows Vista Ultimate version has all the features combined from the Home Premium and Business versions, and adds in a few more features including some data encryption technologies for securing information.
Currently Microsoft outlines some ways to "Get Ready" for the new Vista OS by making purchases of PC's that are "Vista Capable", or taking advantage of an Express Upgrade. If you are buying a PC with XP on it between now and March 15th, you will want to be sure to ask about the Express Upgrade to take advantage of the new operating system when it is available. You can use the Windows XP OS until then.
This Vista release comes "finally" after multiple delays, including delays that prevented the general release to happen before the holiday season was over. Reports state that to even making this release at the end of January required cutting some additionally desired features including some technologies to better organize and sort data.
Vista [Windows]