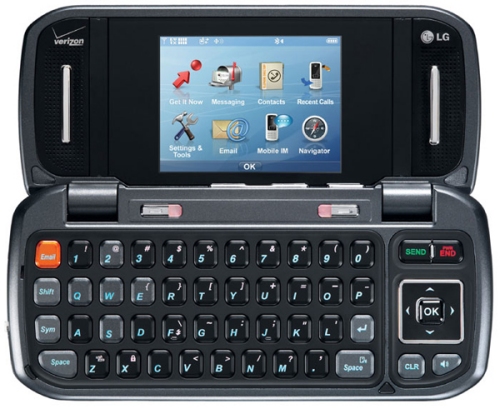 Verizon Wireless and LG Electronics have announced the exclusive availability of the LG enV mobile phone. The enV is the successor to The V by LG and offers loads of multimedia functionality including V CAST, V CAST Music, and VZ Navigator.
The enV comes with a 2.2 inch internal color LCD and features an integrated slide-out QWERTY keyboard for easy access to messaging applications. The enV features Wireless Sync, the proprietary e-mail solution from Verizon Wireless. With Wireless Sync, customers can synchronize their enV with a home or office PC for easy access to new emails, calendar, contact, and task information.
The enV is the perfect device for V CAST and V CAST Music fans. The V CAST music store offers over 1.4 million songs that customers can download and play whenever they like. Bluetooth capabilities allow customers to enjoy their music by pairing the device with a Bluetooth Stereo headset or listen with the dual speakers on the phone. A microSD card slot allows customers to move their own music or video clips from their computer to the enV.
Finally, the enV is equipped with VZ Navigator capabilities. The VZ Navigator service offers audible turn-by-turn directions that allow you to locate nearly fourteen million points of interest in the U.S.A. such as landmarks, restaurants and ATMs. VZ Navigator uses GPS positioning to tell you where you are, what's near you and to give you directions to places, quickly and easily.
The enV, with LG's first ever 2.0 megapixel camera and camcorder with autofocus and lens cover is available at Verizon Wireless Communications Stores and on www.verizonwireless.com.