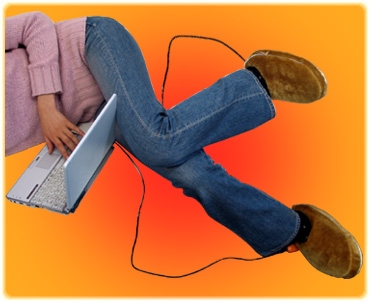 Many times I have been sitting in a room working away on my PC wishing my feet were not so cold. If only there were a way to warm them up, maybe with electricity that I don't have to plug into a wall outlet? Maybe with electricity from my computers USB port?!?!
Well, after intensive searching I've found my solution. These USB slippers are the answer to the cold feet problem of computer geeks everywhere. They are two independently adjusted foot warmers that plug into the USB port on your computer and heat up to the desired setting to keep your feet warm. No electrical outlet needed.
The cords come at 118cm in length, but any USB extension cable can make them longer, and you can adjust the heat and power on/off for each slipper with an inline control. The heater portion is zipped into the sole of the slipper and can be removed to allow you to wash the polyester based slipper after all of your foot sweat gets on them, without ruining the carbon fiber heating element.
You too can enjoy the comfortability of warm feet with these USB slippers for a mere $33.17.
Catalog Page [Rare Mono Shop]