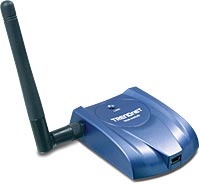 The TEW-445UB 108Mbps High Power Wireless USB 2.0 adapter is the latest USB adapter from TRENDnet. This adapter combines high output power with dual band 802.11b/g network compatibility to give you reliable WiFi connectivity to a variety of home, business, and 802.11 b/g hotspot locations at much greater distances.
The design of the TEW-445UB includes an extended cable connected to a high-powered, detachable antenna base. The base is installed and positioned to provide connectivity for any desktop or laptop PC giving you a range of up to 50-100 meters indoor or 150-300 meters outdoors (depending on the environment).
The device supports high output power up to 23dBM for network coverage and uses Atheros eXtended Range (XR) Technology to eliminate dead spots. Supporting advance power management, the adapter's detachable antenna can be replaced with a higher gain antenna for an even farther wireless reach if necessary.
With support of Super G technology Data Rate up to 108Mbps, this device works well for accessing the Internet, downloading large files, or sharing multimedia such as music and videos. The adapter supports WiFi Multimedia (WMM) Quality of Service out of the box and both WPA/WPA2 and advanced WPA-PSK/WPA2-PSK encryption.
The TEW-445UB is available at the TRENDnet store or through distributors. The U.S. Average Selling Price (ASP) is $72.00 (USD).