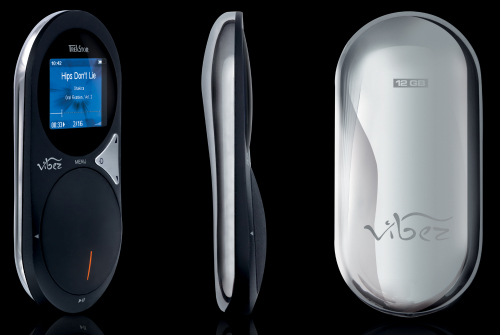 Trekstor GmbH, which designs and manufactures many consumer entertainment and storage devices, has recently released the Trekstor vibez MP3 player. The new MP3 player is the first media player offered in the US from Trekstor that uses a hard disc to store data, and it's a tiny 1″ hard disc at that.
The vibez MP3 player comes in three different hard disk capacities of 8, 12 and 15GB, and measures only 4 x 2 x 0.7 inches to easily fit in the palm of your hand. Navigation through a magnetically mounted, rubber covered scroll wheel manages menu options on a 1.5 inch color TFT screen, and the sleek looking player is able to play music for up to 20 hours off of a rechargeable battery. The battery can be fully recharged for use again in about 3 hours.
Trekstor has plans going forward for expanding the capabilities of the vibez by adding an optional FM tuner card in the near future to listen to FM radio through the player, and plans for an optional FM/video card for motion video playback is slated for next year.
"TrekStor, known throughout Europe for award-winning, stylishly designed products, offers vibez as another trendsetter in personal, portable mediaplayers," said Hana Arad, president of Data Station, the U.S. marketing arm for Germany-based TrekStor GmbH. "By commissioning one of the best known Munich design studios, we've created an exceptional player with a look, feel and functionality that is different than anything else on the market."
Although the TrekStor vibez appears to only come in one color, TrekStor is offering three different colored neoprene skins, and also offers wallpaper designs for the screen's background to provide more of a unique, customized look.
The vibez MP3 player supports many of the more popular music file formats, including MP3, WMA,WAV, OGG and FLAC files, along with WMA DRM (Digital Rights Management) 9 and10. Listening to these file formats is promised to be clear, high quality right down to the earbuds with the included Sennheiser's.
Some additional accessories also enhance the music listening experience with your TrekStor vibez by the optional use of a cable remote control, a second set of headphones with independent volume control and an optional docking station with battery charger and infrared remote control, which can be used to connect the vibez to a larger stereo system.
The 8GB and 12GB capacities are expected to be available in December while the 15GB is expected to ship in late January 2007.
Product Page [TrekStor]