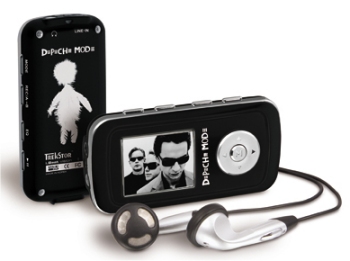 Trekstor has a pretty cool gadget here with the i.Beat vision. The vision is an MP3 player at heart, with a number of other cool features.
The i.Beat vision can play multiple formats, including MP3, WMA, OGG, videos in TOM format and is WMA-DRM9-compatible for downloaded music. It also is able to receive and play FM radio with the ability to preset 24 different FM stations.
The i.Beat vision has inline recording, as well. This means that you can record FM radio, your voice from a built in microphone or audio from any line-in input device. It records and converts the data into an MP3 file right on the recorder. You can then keep, organize into folders and browse through the files along with any other files on your i.Beat vision player.
The vision also lets you view JPEG photos and has a slideshow feature to move through them, and can handle .txt files and let's you view them right on the player as well. All these files can be moved, organized and deleted right from the player interface.
The display is a color TFT measuring 26mm x 21mm and has a resolution of 160 x 128 pixels. The i.Beat vision has a 2 GB capacity which will allow you to store about 40 albums worth of music on the player, and the battery allows up to about 10 hours of continuous playback time before requiring a recharge through the USB interface. The player is pretty small and flat, measuring only 75mm x 37.5mm x 14.5mm and weighing about 37g. You can get the standard player in red and in white, and the interface comes in languages of German, English, French, Italian and Spanish.
The i.Beat vision DM pictured here is a version which is a tribute to Depeche Mode. It has Depeche Mode graphics on the case, a special black color and comes with a "Suffer Well" video clip and exclusive images of the band members on the player when you receive it.
Product Site [Trekstor]