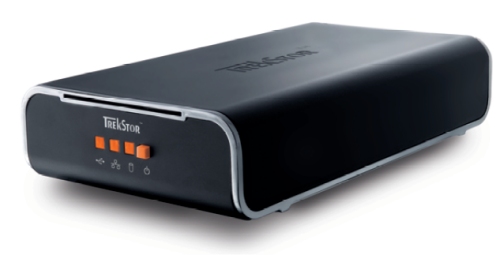 The DataStation maxi z.ul network storage drive by TrekStor is a simple, cost-effective method for multiple users to store, retrieve and share data in an office or home network. The DataStation is a centralized and secure way to make files accessible to all network users without the expense and maintenance incurred with a dedicated file server.
The DataStation maxi z.ul plugs directly into a network switch via standard CAT5 cable or it can be connected to a single PC via USB. Several DataStation drives can be used in one network, and as many as eight drives may be connected together to provide a single data repository.
The maxi z.ul works with Windows, Mac or Linux operating systems and a maximum of 64 users can access the drive concurrently. Other features include:
NDAS technology for highly efficient data transfer
Access rights can be fully managed in the file system
RAID 0 support
RAID 1 support automatic
backup (data mirroring)
The DataStation maxi z.ul is now available from authorized TrekStor resellers, and is sold in sizes ranging from 80GB to 500GB. Each drive comes with a network cable, USB cable, power supply, multi functional mount, and a software CD with NDAS software.