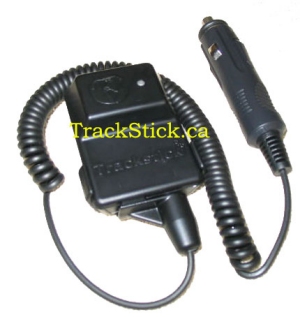 The Trackstick Pro is a stealthy GPS receiver capable of continuously logging its location for extended periods of time, making it the perfect solution for anyone looking for a way to record vehicle, shipping, or truck routes. 4MB of memory allows the Trackstick Pro to log weeks or even months of travel histories.
The Trackstick has many practical uses such as monitoring delivery vehicles, packages, container shipments, or long haul trucking routes. The device also has many ominous and Orwellian uses such as employee and vehicle monitoring, law enforcement, or other special security needs.
The weatherproof case allows it to be permanently mounted to a vehicle or it can be removed from the cradle and placed on the dashboard. The Trackstick is powered by a cigarette lighter or may be hard-wired to a vehicle.
The Trackstick Pro records date, time, location, speed, direction, altitude, signal strength and temperature. Recording intervals can be set for every 5 seconds or 1 minute up to every 60 minutes. The database can be transferred to a PC via USB.