Table of contents for Nintendo Wii Game Preview Series
Super Monkey Ball: Banana Blitz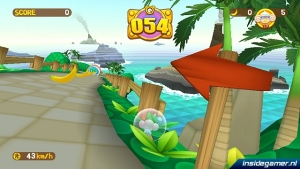 Super Monkey Ball: Banana Blitz is the next entry in the Super Monkey Ball franchise from Sega. Following on the footsteps of Super Monkey Ball Adventure, it is a Wii exclusive and also a confirmed launch title that is sure to make ample use the Wii controller.
Fans of the Super Monkey Ball series can expect to see returning characters: Aiai, Meemee, Gongon, and Baby as well as two new characters: YanYan and Doctor.
The game features 100 main game levels, over fifty mini-games, boss battles, and lots and lots of jumping. There will many varied situations to use the controller such as minigames, darts, ring toss, and a whack-a-mole variant.
Wii Controller Features
The Wii-mote is held parallel to the ground and then tilted in all directions to move the monkey character through mazes. The monkey is bound to the slope of the game world and moves corresponding with the tilt of the controller. You can make your character jump by quickly flicking controller up or by pressing the A button. Control the camera with the analog stick on the nunchuck but this is not necessary to play the game.
Super Monkey Ball has been a successful franchise for Sega in its limited run. Banana Blitz is scheduled to be on shelves November 14 – days before the Wii goes on sale.
Developer: SEGA
Publisher: SEGA
Genre: Action
Release Date: Nov 14, 2006
Players: 1-4