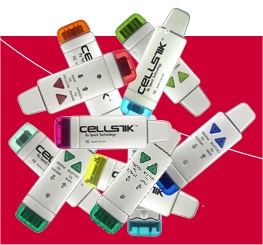 The CellStik is a small USB device that allows you to backup, enter, edit and transfer contacts to and from your cell phone. This little device could come in handy should you lose your cell phone and all your critical phone numbers with it.
CellStik comes with the CellStik Central PC application which is where you add, delete, and edit your cell phone contacts using your full-sized PC keyboard. This will save you the hassle of entering in all your names and numbers using the keypad on your cell phone.
The current version of CellStik is strictly for backing up and transferring your cell phone contacts and does not work with photos, ringtones, games, or calendars.
CellStik [Spark Technology]