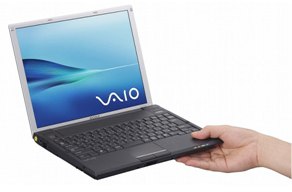 If you are looking for the lightest notebook around, your search can probably end here with the Sony VAIO G. At just under 2 lbs, less than 11 inches wide and only 1 inch thick this thing is pretty small.
Although you are not going to have the fastest notebook on the planet, the feature set is really not too bad and lends the VAIO G to being fairly affordable at around $1800 USD (only available in Japan starting in December). This small laptop from Sony sports a 12.1 inch screen with resolution up to 1024×768 running from a 945GMS Express graphics card. You can get either a Core Solo or Celeron processor at 1.06GHz or 1.2 GHz, 1.5GB of memory and an optional 80GB hard drive.
The VAIO G from Sony supports wireless connectivity through 802.11 a/b/g WiFi and Bluetooth, and has a standard 6 hour battery that can be upgraded to a 12.5 hour battery for a few more bucks and a little more weight.
Source [Sony Japan]