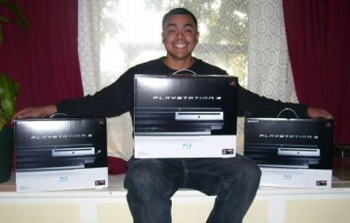 In case you have been in a cave the last few days, Sony released it's next generation game console to United States customers yesterday at stores across the country, and like the PS3 sales in Japan only a week ago, the consoles were reportedly gone in a matter of minutes. Sony geared up to be able to offer 400,000 PS3 consoles to the US market for the launch date, and Sony wants to have 1 million available to US customers by the end of the year.
Sony has two versions of the PS3 available, and numbers on how many of each are not clear. The less expensive of the two offerings contains a 20 GB hard drive for $499, while the other version is retailing for $599 with a 60 GB hard drive and WiFi capabilities. Both versions have Sony's impressive Broadband Engine processor and a 1080p High Def Blu-ray DVD drive. The wireless SIXAXIS controller that comes with the game console also has some impressive properties. While not the radical changes seen in the new Wii controllers, the PS3 controllers have a more traditional look and feel with the ability to twist and turn the controller to change the action of game they are playing.
"With today's launch of PS3, we are officially ushering in a new era in true next-generation entertainment for homes all across North America," said Kaz Hirai, president and CEO of SCEA. "The innovative PS3 system features powerful technologies and capabilities that have never been brought together in one system, including the Cell Broadband Engine, BD drive, HDD and online connectivity as standard features of every system. The results are breathtaking new interactive worlds to explore, eye-popping multimedia functionality, and a fully integrated online experience — all in high- definition clarity. The value we are providing consumers with PS3 is beyond compare."
Lines began forming for the game console as early as the 13th of this month, and the sales started early yesterday and ended yesterday as well. Stores had sold out all of their units within minutes according to reports from Bloomberg, with the first console sale done at a Madison Avenue store in New York early Friday morning. Since the sales have started, Ebay auctions have run wild with outrageous prices on the newly released PS3′s. On Friday almost 800 consoles were sold online bringing an average of over $2700. Over 3,600 units had been sold in total according to researchers. In Massachusetts a man was shot by two armed men while waiting in line to make a PS3 purchase.
This is continuing great news for Sony, who needs strong sales on this product to recoup costs and losses on other products, as well as the need to compete against both the Nintendo Wii and the Xbox 360. Both competing game consoles offer very competitive products at lower prices than the PS3, but if Sony can make sales like it did with the first two generations of Playstation games it should have no problem recovering.
Photo / eBay Auction Site
Blu-ray, Playstation 3, Sony PS3