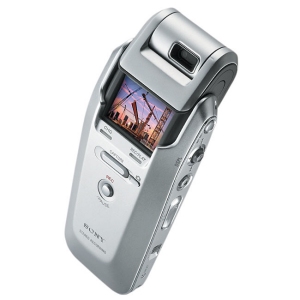 The Sony ICD-CX50 visual voice recorder is a handy little device that combines a digital voice recorder with a 1.2 megapixel camera. Now you can capture sound and images together, and the information will be saved into a synchronized file.
This ICD-CX50 has obvious utility for professionals such as claims adjusters, realtors and building inspectors, but is also very useful for students, homeowners and travelers. For example, you could use it aid you in performing a home inspection, documenting auto claims, or recording meetings and lectures.
The Visual Voice Recorder features a 1.2 inch color LCD, rechargeable battery and 4X digital zoom. 256MB of flash memory holds up to 4000 pictures (640 x 480 JPG) or up to 93 hours of recording time. The rechargeable battery can be recharged using AC adaptor or supplied USB cable. The built-in playback speaker lets you preview your recordings.
ICD-CX50 Visual Voice Recorder [Sony]