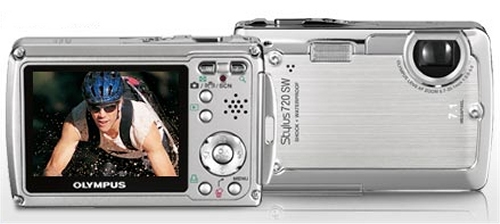 Doing different types of outdoor activities are enjoyable for many people, and having your digital camera along is nice, but there is always the issue of where you can put it so it will be safe, dry and free from getting bumped around.
Olympus has heard this call and responded with the Stylus 720 SW. This digital camera may be everything you are looking for in a point and shoot type camera that you can take with you everywhere.
The Stylus 720 SW is shockproof up to 5 feet according to Olympus and absorbs impacts while preserving the images.
The 720 is also waterproof up to 10 feet deep for as long as an hour for fresh or salt water. This isn't just water resistant in case you drop it accidentally, they actually promote taking it underwater and taking a picture.
Another key part that makes this a good "extreme sport" type camera is the image stabilization. If you are running, riding or falling it will help keep the pictures you take sharp.
Also, this camera is under an inch thick and takes 7.1 megapixel images which gives you pretty high quality photos in a pretty small package.
Product Page [Olympus]