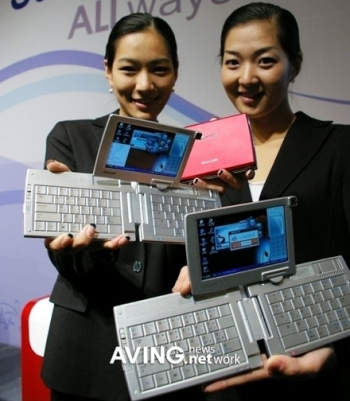 Samsung has released a new device into the market which is one of the few new, and soon to be growing in numbers, devices that converge technologies for internet and voice communications. Samsung has done it in this case using WiMax and CDMA EV-DO connectivity to make this hand-held multi-functional device.
The SPH-P9000 is not the smallest mobile device you will find, but it exchanges it's portly exterior for some increased usability. The device folds out from it's 143 x 92 x 29.7 mm dimension to have a full qwerty keyboard and viewable upright 5″ WVGA screen for some un-cramped typing and viewing of documents and movies on the Windows XP based OS.
The device has an MP3 player and 1.3 megapixel camera along with a 30 GB hard drive and altogether weighs 560 grams. The Samsung SPH-P9000 is expected to be launched in Korea by the end of the second quarter, 2007.
Press Release [Samsung]