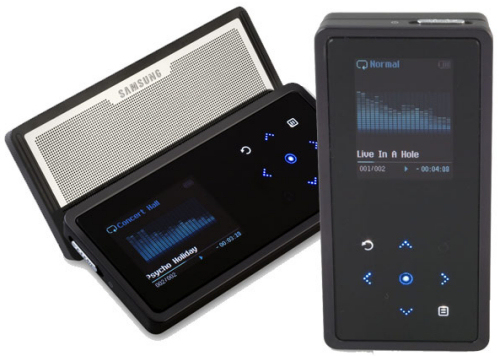 There are a lot of MP3 players on the market today, and Samsung has done a good job in differentiating the K5 player from the rest by offering features that are not commonly found on your average portable music gadget.
To get some of the specifications out of the way, this device comes in either a 1GB or 4GB capacity and has a battery that allows up to 30 hours of playback time, and 6 hours with the speakers. Yes speakers, but we'll come back to that. This device also has a nice 128×160 color screen to view the menu and view jpeg images. Also, the gadget is under 4 inches wide to give you some perspective before we get into all the key features, and when folded is under an inch thick.
For starters the Samsung K5 has a built in FM tuner to allow you to listen to the radio. This seemingly obvious feature has not been in a lot of MP3 players, but had been gaining more popularity lately.
This player also has a built in alarm clock. You can have the alarm set to wake you up with your recorded songs or the radio, and also use a timer feature to have the music put you to sleep and shut itself off after a defined amount of time.
When listening to your music, the K5 comes with some high quality earphones with enhanced bass sounds with special two-part buds. But, if you have looked at the picture you probably noticed that ear buds are not the only way to enjoy listening to music on this unique music player. The Samsung K5 comes with a built-in 2 speaker slide-out that offer a high quality sound with virtual surround sound technology. The player allows you to switch between 5 different modes to create sound that competes with many home stereo systems to share with anyone within listening distance.
With the 4GB model the K5 from Samsung can store up to 1000 songs downloaded from the PlaysForSure online store, or up to 25,000 jpg images to view. Songs transfer by interfacing with your PC via a USB connection. Having an MP3 player is nice, but I have to say that even though this music player is slightly on the bulky side compared to some of the new similar devices, it is really nice to be able to easily share your tunes with this amount of quality and still have a it all in a relatively small package.
Product Page [Samsung]