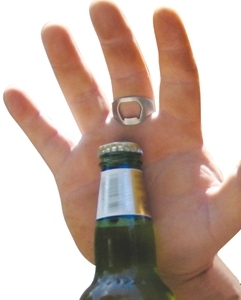 This picture is pretty self-explanatory, but just in case you don't make the connection this is a ring that has an opening on one side of it that works as a bottle opener. A little torque while wearing the Ring Thing on your "social" finger and you have solved the problem of always having to look around for an opener or some particularly strong surface area every time you want to open a bottle.
I have to say that this looks a little more sanitary than the bottle opener sandals we posted about in early September, but it may require some strong fingers. Finally some bling that has form and function, adn to top it off it only costs you around 10 bucks. The Ring Thing comes in sized from 9 to 14.
Thanks for the suggestion, Jeff!
Catalog Page [The Lighter Side]