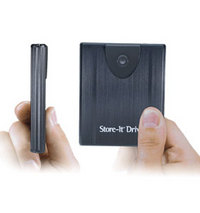 The Pexagon Store-It 1.8″ USB Hard Drive is a razor-thin (1.3cm) portable hard drive that features an integrated one button backup. This new model in the Store-It series is 30% smaller and 40% lighter than the 2.5″ Store-It Drives and uses a Hitachi Travelstar hard drive.
The one-touch backup system includes Retrospect backup software which supports multiple sources, allowing you to back up two or more hard drives easily. The patented Progressive Backup technology backs up only new and changed data after the first full backup. The system also allows you to password protect, encrypt and verify your backups easily.
This drive is perfect for adding storage or backing up any USB-enabled desktop or notebook computer. The pocket-sized hard drive features a rugged extruded aluminum case to protect your data as it bounces around in your pocket or backpack.
The Pexagon Store-It 1.8″ Portable USB Hard Drive is available now in 20GB and 60GB models.