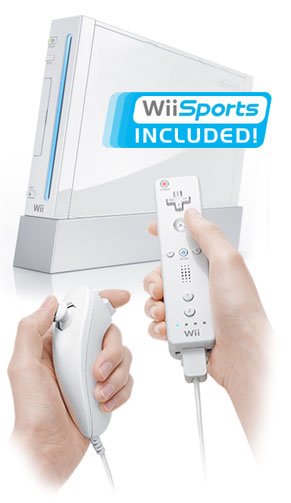 Nintendo launched it's new Wii video game console in New York last night at midnight, meeting more than a thousand eagerly awaiting fans. Some fans had been in line for days awaiting the launch in the hopes of being one the first to get their hands on the new console. Surprisingly, the US launch was done prior to the launch in the companies home of Japan. This was done, according to Nintendo, in order to take advantage of the earlier holiday shopping season in the US.
This bold launch by Nintendo comes only two days after the launch of the PS3, and puts the two gaming giants in a head to head battle in this seasons gaming console wars. The Wii game system does not have near the processing power or graphic capabilities of the it's PS3 and Xbox rivals, and has a price that is less, as well. The new Nintendo system is retailing for $250 USD, compared to the top end models of the Xbox and PS3, going for $400 USD and $600 USD, respectively. Being fully aware of these differences, Nintendo has put more effort into expanding it's market base instead of trying to steal away more gamers from the more targeted and popular game console demographics.
Nintendo is bringing a new styled one-hand controllers with their Wii product, one of which being a motion sensitive device to allow users to simulate the activities and perform the actions in the game, such as swinging a racket or a sword. The new controller allows people to be more "into" the game and will hopefully broaden the audience of interested consumers. Nintendo has also launched games and products to appeal to girls and seniors with Nintendodogs and Brain Age games to further expand their demographic target in general. The Nintendo console also comes with an included game that utilizes the new controllers. The PS3 and Xbox do not have games included with the console purchase.
There did not appear to be a shortage of game consoles available for those that wanted them this morning. Stores that opened in New York at midnight with people in line had an ample supply, and it was reported that other stores that opened later this morning, such as Best Buy, would have the video game console available but had no one line. Nintendo hopes to sell more than four million Wii game consoles by the end of this year, which is twice the expected sales of PS3.
The big question in this console war is which game will maintain it's popularity after the initial buzz has worn off and the hard-core gamers have made their purchase. The success of the Wii and other game consoles will very much depend on the longer term popularity and continued sales.