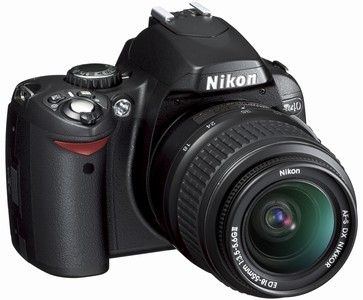 If you are one of the many that would like to be able to take great photos with the performance of a digital SLR camera, but never wanted to invest the money or take the time to learn all the features involved, Nikon has come out with the right camera for you. This digital camera could very well bridge the gap for many amateur photographers from the popular point and shoot compact cameras to a little more serious but manageable photographing instrument.
One significant features of this offering has nothing to do with the camera specs, but is the price. At an estimated $599, consumers can get a pretty nice, lightweight and SLR camera for less than most similar models. Another nice feature is the 2.5″ color display. Nikon has made a more novice, user-friendly display on the screen with a few different layouts to appeal to the newer photographer and help avoid some of the apprehension that comes with the functionality of a high-end camera.
Another cool property of this camera is the shutter speed and start-up speed. If you use a point and shoot camera, you may have noticed that most of them take a few seconds to "boot-up" before you can take a photo. If you are in a hurry, a lot of times you have lost your photo opportunity by the time your camera is ready. The Nikon D40 has a .18 second start up time, which basically means that it will be ready about as fast as you can get it up to your eye to aim. It also can shoot two and a half frames per second for up to 100 photos that are instantly converted to JPEG's. You can also take those photos of yourself if needed with a wireless remote control.
This digital camera is also light at only 1lb and 1oz it is relatively small compared to similarly featured cameras, and is boasted as the "lightest and most compact digital SLR ever…" by Nikon. It has a battery that allows up to 470 pictures to be taken on one charge, and more if you never use the flash. The camera stores data on memory cards through the built in SD slot.
Just because you are saving a few bucks on this camera, you are still getting a pretty good deal in the way of image quality. Pictures are taken at 6.1 megapixels with some high quality detail and color. The camera has over 30,000 different "scenes" it can pull from automatically to get the best exposure and picture quality.
Release [Nikon]