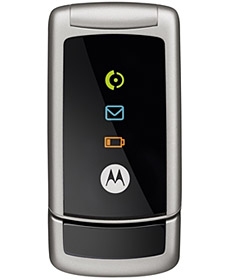 Not everyone needs all the flash and bling of the features and fancy cases in new mobile phones. A nice looking, practical phone is found in the Motorola W220 which was launched earlier this year. This is the kind of phone that you would be comfortable with letting your daughter date.
The W220 has a clean a slim design similar to the Motorola RAZR, but without all the extra flash and price. There is no MP3 player, no camera and no flashy videos or pictures on an external display.
The mobile phone does however have FM radio. Nice, safe FM radio. It also has three indicators on the front of the phone that are not visible until they are needed. When you have a missed call, a message or your battery is low these three lights will simply and clearly let you know at a glance, without having to even open the cover.
The Motorola W220 has up to 8 hours of talk time and 36 hours of standby time which is a pretty decent length of time. The phone also has WAP access to the internet and SMS along with GPRS and GSM 900/1800 support, so it can always be connected. The phone is very thin at only 16.7mm and weighs 93 grams. It doesn't have an antenna sticking out which keeps the case symmetrical and allows it to easily fit in your pocket
The Motorola W220 is really the more humble version of the RAZR, and fits the profile of a very practical and stylish mobile phone solution without all the hype and flash that comes with the more expensive models.
W220 [Motorola]