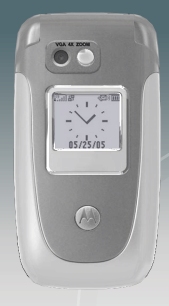 Motorola seems to have taken a slightly different approach with the V360 compared to the slim RAZR's, KRZR's etc. The photo here may not look too flashy, but I assure you it is not the photo. The Motorola V360 is a nice and small clam shell style phone, just slightly smaller than it's predecessor the V330, but not much.
What the V360 lacked for looks it makes up for with some pretty decent functionality. It has digital camera with decent image and 4x digital zoom, and the ability to download ringtones, games, wallpapers and screensavers if you would like to attempt to dress it up a little.
For calling you can take advantage of a speaker phone and enhanced phonebook that allows photos of the contacts, and you can put people on mute if you would like. It also supports SMS, MMS and EMS along with email and makes entering messages a little easier with the iTAP predictive text program.
The V360 let's you connect almost anywhere supporting GSM 900/1800/1900 and has an external memory slot to add additional video, pictures or digital music to listen to or watch. One caveat is that you have to remove the back cover to get your memory card in and out, but at least it has one.
If you are looking for small functional phone (without a bogus antenna that doesn't fit nicely in your pocket) without paying for a lot of flash you should pay attention and not overlook the Motorola V360.
Product [Motorola]