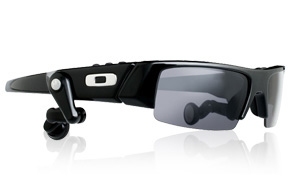 Oakley and Motorola teamed up to make these O ROKR sunglasses / headset. The sunglasses are made from light weight "O Matter" weighing about 54 grams so that they can be comfortable for extended periods of time. The lenses are interchangeable (comes with one set) and they are made from Plutonite to filter 100% of all UV rays.
What makes this a cool gadget is the fact that the O ROKR glasses double as a Bluetooth wireless headset. You can use the dual ear pieces attached to the sunglasses to listen to a Bluetooth enabled phone or a music player with Bluetooth or a Bluetooth adapter. You can also take calls from your phone on the O ROKR glasses like you would with a normal Bluetooth headset.
The glasses have functionality built into them to remotely operate the playing devices. You can control volume, answer and end calls and control music with play, pause, fast forward, next song, previous song and rewind functions. The batteries allow for up to 5 hours of listening to music or talking on the phone, and 100 hours of standby time.
Like any Bluetooth device, the range is about 30 feet and the O ROKR sunglasses work with both 1.1 and 1.2 Bluetooth compatable devices.
Product Specs [Motorola]
Bluetooth, Motorola, O ROKR, sunglasses