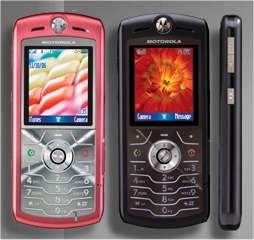 The main attention to the Motorola MOTOSLVR L6 is mostly due to the fact that is just so thin, just as the name implies, and now you can get the MOTOSLVR in pink, too. The key features of the pink MOTOSLVR are not any different from that of the other colors, but we have a rundown of what you can find on both the standard and pink version
The ability to synchronize your phone with iTunes is one of the coolest application features built into this phone. You can sync up the mobile phone to your iTunes music library, download the songs you want and play them as well as manage your play lists right on the phone. The media can then be stored on a removable flash memory card.
Bluetooth connectivity is available on the MOTOSLVR which will support wireless headphones to listen to all those iTunes music downloads, as well as wireless connections to computers, printers, hands free car systems and other Bluetooth hardware for transferring songs and data.
A built-in VGA digital camera allows you to take still photos with a fancy 4x zoom and auto focus, or you can record digital video that you can save, play back on the phone or share to other devices. The display screen is a 176×220 TFT with 262K colors which makes images, games, wallpaper and just the general theme with menu options bright and clear.
Still we can't forget the most attractive part of the MOTOSLVR, which has to be the thin design. At only 11.5 mm thick and a weight of only 96 grams the frame turns out surprisingly sturdy. This sleek design form makes this phone very functional with a cool and sophisticated look, even in pink.
You can check out the Full Specs on the Motorola SLVR at the Motorola site and if you're fast you might be able to get your hands on one.