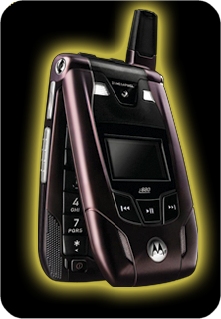 Motorola and Sprint announced the availability of the Motorola i880 2.0 megapixel camera phone on Nextel. This is the latest in a series of higher-megapixel mobile phones offering better picture quality. The 2.0 megapixel picture resolution allows you to take quality 5×7 prints.
The i880 comes with a 64MB microSD memory card and features a video recorder, integrated music player with front dual-ported speakers. Other features include: GPS capabilities, Internet microbrowser, custom ring tone ID and picture caller ID, a 262K internal color screen, voice dialing, voice recorder, speakerphone, datebook and 600-entry contacts list.
"The i880 represents Motorola's philosophy of intelligent handset design while delivering an amazing music experience," said Peter Aloumanis, vice president, U.S. Markets Division, Motorola's iDEN Mobile Devices. "This device combines first class Nextel Walkie-Talkie communications solutions with ultimate multimedia features such as a 2.0 megapixel camera."
The Motorola i880 is available now through all Sprint and Nextel distribution channels.