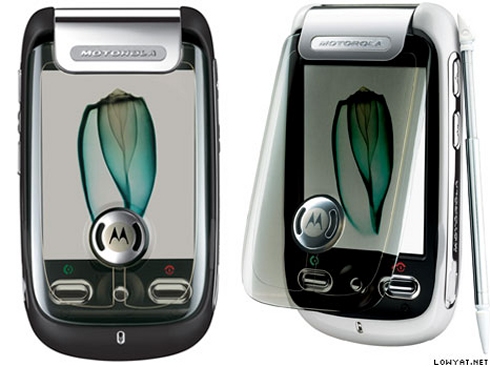 The MOTOMING from Motorola is a sleek looking mobile phone full of functionality and a little different looking style.
The MOTOMING has a clamshell design with a transparent, tinted front so that you can see whatever wallpaper is active when the phone is closed. It comes in two different colors, a dark gray and a red, which both look very sharp.
The MOTOMING A1200 also has some impressive and handy functionality that come along with this unique design, so the phone is not all flash. With the built-in 2 megapixel camera, not only can you take digital photos but you can also scan business cards which will identify the text and store the information in the phone book.
The MOTOMING lends itself to business travelers on the go with a smart device file viewer that allow you to view business documents on the large color screen, such as PDF's, spreadsheets, PowerPoint presentations and Word documents.
Voice recognition capabilities allows you to dial numbers with voice commands, have some additional security through Voiceprint authentication, and you can even have your SMS read to you by a voice in the phone. These features are nice for use while driving to help keep your eyes on the road, and not trying to read messages on the phone.
Of course you cannot expect all business from a phone with a look like that of the MOTOMING A1200. You can get your email, view and take photos, download ring tones, play music, listen to FM radio and connect to devices like a headset or printer via Bluetooth. Memory for extra files can be increased up to 1 GB with an external T-flash memory card.
MOTOMING Flash Site [Motorola]