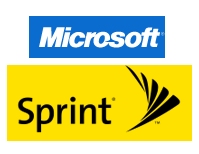 Microsoft and Sprint have announced an alliance in which the companies will develop and deliver a range of mobile search services for Sprint's business and consumer customers.
The initial offering enables Sprint customers to use Windows Live Search for mobile on their wireless phones to search location-based content from the Internet. The new mobile search service based on Windows Live aims to provide a single access point to relevant online content based on a keyword or phrase. The search will include the Sprint catalog of offerings such ring tones, games, and screen savers as well as nearby stores and restaurants.
Windows Live Search for mobile offers features such as maps and directions but requires users to input their location by entering their ZIP code, address, or city and state. Future versions of the service are planned to enable consumers to give permission to automatically locate them and show the nearest businesses that match their search.
The service also provides new opportunities for advertising revenue with highly relevant and targeted local advertising on the mobile devices. This announcement comes on the heels of the recent Yahoo Vodafone advertising collaboration.
The service is immediately available at no additional cost to Sprint PCS VisionSM and Sprint Power VisionSM subscribers on all currently available data-capable phones, along with many popular older models.
Live Search, Microsoft, Mobile Phones, search engines, Sprint