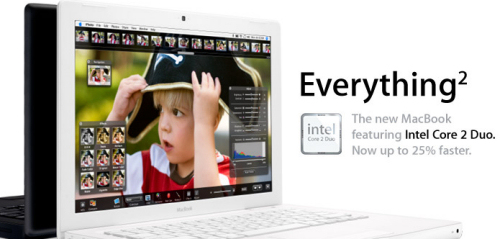 Apple has just announced the release of it's new line of Macbooks with the Intel Core 2 Duo Processors, giving the new versions up to 25% faster processing speeds than previous versions. To keep up with the faster processing, the new notebooks will also feature double the memory offering up to 2 GB and more storage than previous models making hard drives of up to 200 GB available for the heavy hauler.
The 64-bit processor architecture of the Intel Core 2 Duo allows it to handle data and process more decisions double time (64 bits versus 32 bits), giving the Macbook more processing power. Apple states that this additional processing speed equates to 6 times the performance over the iBook and 12-inch PowerBook. The Apple web site boasts the performance enhancement with the Core 2 Due by showing examples demonstrating a 12% increase in the speed of processing common iTunes tasks and up to 27% more processing speed in common iWeb application tasks.
The new Macs will come in 3 models, two with a 2.0 GHz processor (one black and one white), and a third white model with a 1.83 GHz processor. These have a starting price of about $1100. The new models come with a 13″ widescreen display for clear viewing of applications and multimedia.
"MacBook has helped drive Apple's notebook market share to over 10 percent in US retail, and the new MacBooks will be among this holiday season's most exciting new products," said Philip Schiller, Apple's senior vice president of Worldwide Product Marketing. "With Intel Core 2 Duo processors across the entire line, these new MacBooks are up to 25 percent faster than their predecessors."
Aside from the new Core 2 Duo processors, other nice features of the new Macbooks include the handy Magsafe power cord connection. This feature is present on existing Macbooks and allows the power cord to connect to the Macbook via a magnetic connection. This allows a good connection for charging, but if the cord gets pulled or tripped over, it will not be pulling the notebook of your desk or damaging the cord. Apple is now offering an airline version of the Magsafe power cord to allow the same feature when connecting to power while in flight.
The new Macbooks also will have the iSight camera built in to the lid for easy video conferencing without having to bring along any extra hardware, and the software includes Apple's popular iLife '06 lifestyle applications. The new Macbook of course connects wireless with Bluetooth and AirPort Extreme (802.11g) WiFi, and has a super-fast DVD burner that comes standard on the 2.0 Ghz models.
Check it out [Apple]