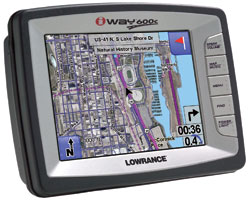 Lowrance, of marine electronics fame, recently released the iWAY 600c portable navigator to help the intrepid traveler navigate both roads and water. The 600c is a versatile GPS that allows consumers to plot a course on both highways and waterways with detailed satellite imagery of select metropolitan cities and marine locations.
The 600c features a "birds-eye-view" of your route through high-detail, satellite imagery of hundreds of metropolitan areas in the U.S. and Canada, including highways, buildings, stadiums, streets, and adjacent waterways. The marine coverage contains over 3,000 enhanced U.S. lake maps with depth contours for inland waters and charts for the Great Lakes and Coastal U.S. waters.
The 5″ 16-bit color TFT touch-screen display lets you navigate even in the brightest sunlight, while the multimedia extras keep you entertained on your journey. The built-in FM modulator wirelessly steams music through an open FM radio channel and automatically mutes the music momentarily to give audible directions. Listen to your music with the included MP3 player and view your favorite pictures with the picture viewer (JPEG).
The 600c has 30GB of internal disk space, with 25GB of storage dedicated to high-detail mapping and satellite imagery and 5GB reserved for MP3 audio files and JPEG image files.
The iWAY 600c is available now for $799.00(US). An optional Marine Mounting Kit, with special bracket and hardware for boat-mounting is also available.