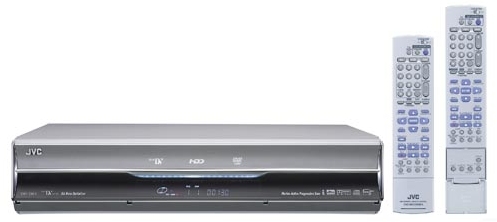 This is a really cool video recorder from JVC with triple action recording for HDD, DVD and MiniDVD. The device can record in multiple formats, including MiniDV, HDD, DVD-RAM, DVD-RW and DVD-R, and it can play almost every popular format currently out there. The list of playable formats for the DR-DX5S from JVC include the same recording formats already listed along with CD, SVCD, VCD, CD-R/RW, WMA, MP3, and JPEG digital still images.
The video recorder records it's data to an internal 250 GB hard drive and features 6-way dubbing, a bit-rate optimizer and high speeding dubbing up to 64x. Also,this device has a MiniDV deck built right in. Another pretty cool feature is the comprehensive remote, which has a lot of functionality and is probably too big to get lost in the cushion of the couch.
The JVC DR-DX5S is a great recorder that puts out good quality and allows you to watch, pause and rewind live television like an ordinary DVR, and also lets you burn quality discs including dual layer DVD-R, but I did not see any compatibility with +R or +RW type discs. Keep this in mind if you plan on doing any on-disc editing as it makes it pretty difficult. The only other difficult part of the DR-DX5S video recorder in my opinion is the price tag. At just under $1500 these digital video recording features do not come cheap.
Product Page [JVC]
DR-DX5S, DVD Recorder, DVR, JVC