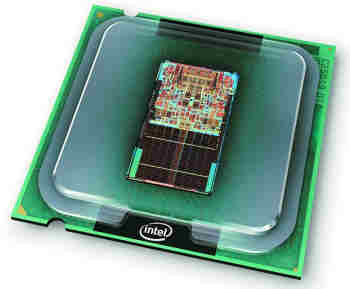 Intel has gone ahead and released a quad core processor called the Core 2 Extreme QX6700, seemingly right on the heels of it's Core 2 Duo release 4 months ago. This is the first try Intel has had at putting 4 cores into one processor, and reports have shown that they seem to have done a good job.
This new processor is just as it sounds, having 4 cores which literally can process 4 time the amount of a single core processor at the same time. Keep in mind though, that although the power is there with this new technology, only applications that are built to take advantage of the additional threads of processor will truly benefit from it. Some applications may not present a great improvement, but this really opens up the power of the ones that do.
Reports point out that the only change with this new processor from the Core Duo is really the physical addition of 2 more cores. PC makers Dell and Gateway have already indicated their intention of adding the new processor to their line up, and could be offering PC's with the QX6700 as soon as the end of this month.