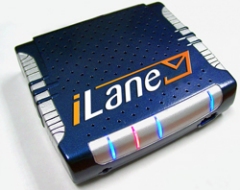 iLane is a hands-free and eyes-free solution for managing email messages and attachments, phone calls, SMS messages and calendar appointments while in transit using voice commands. The iLane device interacts directly with existing Bluetooth enabled handheld devices and vehicle audio systems or headsets.
iLane integrates with the audio system in your car to notify you as new messages arrive on your handheld device or smart-phone. Using voice commands you can then listen to a summary or the entire message, compose a reply, or forward an attachment. The iLane system can manage email messages and attachments, calendar requests and appointments, SMS messages and phone calls, all without taking your hands off the wheel or your eyes off the road.
Upon entering your car, iLane will recognize your handheld device and control how incoming information is managed – based on your settings. This information is communicated to your Bluetooth headset or audio system, where it is read aloud. Your voice commands are transferred back to iLane via the headset where iLane interacts with your handheld device
Hopefully iLane will allow you to keep your eyes on the road and your hands on the steering wheel. iLane is accepting registrations on its website.