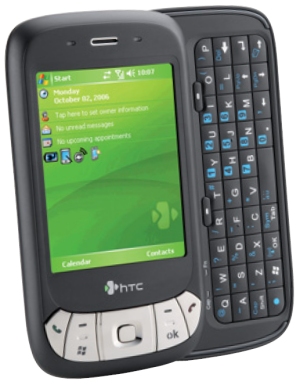 HTC recently launched the HTC P4350 PDA Phone to be released throughout Europe, the Middle East, and Africa in early December. The HTC P4350 is just 17mm thick and features a semi-automatic sliding full QWERTY keypad which demonstrates HTC's continued dedication to sleek form factors.
The P4350 offers users a full "mobile office experience" with Windows Mobile 5.0 Direct push email technology, internet browsing, and synchronization with Microsoft Outlook Calendar, Contacts, and Pocket MSN. Users can work on applications in the Microsoft Office suite such as Word, Excel, PowerPoint, and view PDF documents.
The compact device boasts a 2.8" color display touch-screen with a landscape view to make mobile viewing of email, internet, and video a bit easier on the eyes. 128Mb ROM, 64mb RAM, and a microSD slot ensure that you will have enough storage for many of your office documents.
The HTC P4350 quad-band PDA Phone supports GSM/GPRS and EDGE, Wi-Fi, and Bluetooth 2.0 and will be available in Europe from December 2006.